Now that it's February and with 2019 well underway, I'm struck by how consistently the word purpose has been appearing in our lexicon. That's because the power of purpose is the fuel behind some of the macro-themes for the year ahead.

Purpose has long been the driver behind the genius of scientists, artists, visionaries, and those with the courage to follow their dreams. Now purpose has moved beyond every day culture to become a key driver in a changing business environment. It has come to determine where and how we live, where and how we work, and even what we buy and how we invest.

The behavioral scientist Daniel Pink writes about purpose in his books Drive and A Whole New Mind. (1,2) He discusses how in today's abundant world, purpose is an important motivator in how individuals seek and determine meaning in their professional pursuits. Millennials and Generation Z-ers make this abundantly clear. Expecting to be fulfilled at work, they seek employers that reflect their values on such issues as diversity, human rights, global poverty and hunger, and the environment and climate change. (3)

Purpose also impacts purchasing decisions. Consumers increasingly buy from and invest in companies whose products, services and business principles reflect their values. This has now carried over into professional investing as well. According to the Harvard Business Review, ESG Investing, which focuses on Environmental, Social and Governance issues alongside financial factors, is growing strong. (4)

For some time now, the business and financial worlds have responded to this changing paradigm. Looking at 2019 and beyond, organizations are expected to accelerate the development and expansion of various programs and initiatives to meet the demands of purpose in our changing times. This includes: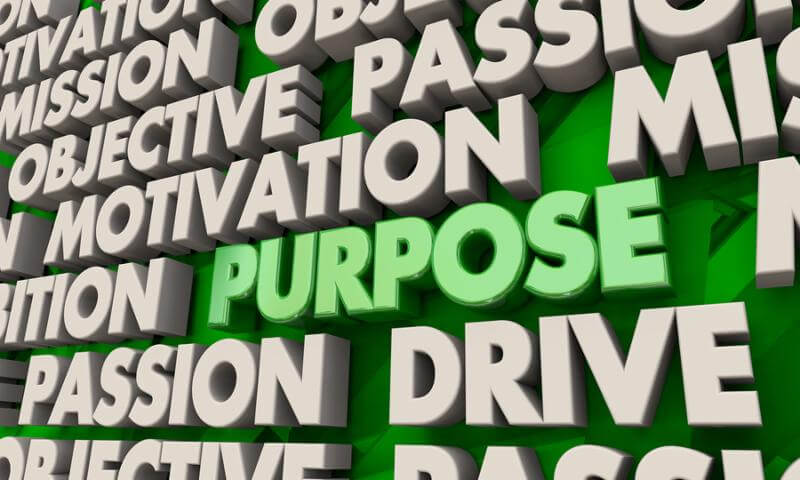 Fully-Integrated Corporate Responsibility Programs: Corporate Responsibility (CR) programs have risen in prominence. Once considered "nice to have" initiatives, CR programs have evolved to become "must have" business mandates based on ESG factors. CR is now a top agenda item at board and C-suite meetings, according to a recent Forbes article, "Corporate Responsibility: What to Expect In 2019." (5) It quotes the Global Head of Corporate Responsibility and Inclusion at Thomson Reuters as saying, "It will no longer be a choice for companies to embed social impact into their business and brand strategies—it will be required to thrive and compete for talent, customers and investors."
Diversity and Inclusion: Over the last two decades, companies have made a concerted effort to focus on Diversity and reflect more accurately the changing demographics of our society. These efforts now have expanded to embrace Inclusion, a related but separate initiative focused on creating a work environment in which all individuals are treated fairly and respectfully, have equal access to opportunities and resources, and contribute fully to an organization's success. Driven in large part by egalitarian-minded Millennials and Generation Z-ers who are demanding equitable treatment for all, companies are expected to put more energies into Diversity and Inclusion efforts in the year ahead, making cultural shifts that allow for diverse sets of employees to coalesce and flourish.

Expanding the Employee Value Proposition: The last two decades have ushered in significant changes in HR policies to retain and attract talent. That's because the traditional employment contract no longer accommodates today's employee, in particular Millennials and Generation Z-ers whose expressed purpose is to have greater control over their daily lives and destinies. For example, according to a study by Edelman Intelligence, freelancing now comprises a significant percentage of these workers (42% of 18-34 years-old, and 35% of 35-44 years-old), not out of necessity but rather by choice in order to achieve a desired lifestyle. (6)

As a result, companies looking to retain and attract top talent have created a new baseline of employee offerings: highly flexible working arrangements; on site child-care and healthcare; paid volunteer time for charitable pursuits; and comfortable workspaces that provide lounges, exercise facilities, and kitchens, often with free food. In addition to these amenities, Millennials and Generation Z-ers have upped the stakes. They are choosing to work for companies with a strong social conscience and commitment to the major environmental challenges of our day—in effect ESG issues. In the year ahead, it is expected that innovative companies will find new ways to enhance employee benefits and improve their ESG profiles to expand their employee value propositions.

A Focus on ESG Investing and Reporting: For nearly two decades, Socially Responsible investing was a niche investment strategy focused on companies that met certain principles. Now, ESG Investing has taken root and is becoming mainstream. The Global Sustainable Investment Alliance indicates there are more than $22 trillion in ESG assets under management on a global basis. And according to the Harvard Business Review, in early 2018, $11.6 trillion of all professionally managed assets, or $1 of every $4 invested in the U.S., were under ESG investment strategies—up sharply from $3 trillion in 2010. (4)

In addition, with passive investing becoming a popular trend, there is strong growth in ESG-Exchange Traded Funds. Today, there are at least $11 billion in assets under management across 120 ESG funds globally, with BlackRock predicting these investments will exceed more than $400 billion over the next ten years. As a result, companies are now incentivized to report their business and financial performance along ESG lines, helping to ensure participation in this growing investment category.

What does all of this mean for marketing and communications professionals? As companies expand their efforts across the aforementioned areas, there are opportunities to offer strategic insights into program development and enhance their differentiation. And in light of the power of purpose, there is equal opportunity to engage in purposeful marketing that effectively promotes activities directed at customers, employees and investors. Select activities include:


Content marketing focused on brand stories and featuring customer, partner and employee profiles delivered through videos, infographics, podcasts and written reports for usage across traditional and social media


Event marketing that creates relationship-focused, memorable experiences–from customer events to employee town halls to chat-forums


ESG Investing reports that build on current CR reports and focus on performance related to ESG factors in creating a more integrated approach to disclosure and investor outreach, and


Personalized marketing that utilizes big data and predictive analytics to determine audience interests and values so that related, germane information can be delivered to them. Organizations that have not invested in these MarTech tools should make it their purpose to do so.



As I mentioned at the outset, purpose is today's word-du-jour and is at the heart of all we do. Maybe the best example of this is Oprah Winfrey, who has long been admired for having her finger on the pulse of important trends. She is currently hosting a 10-week podcast program with spiritual philosopher Eckhart Tolle about his book,
A New Earth – Awakening to Your Life's Purpose
. No doubt, lots of people are listening.
[1] Pink, Daniel H. (2009) Drive. New York: Riverhead Books [2] Pink, Daniel H. (2005) A Whole New Mind. New York: Penguin Random House. [3] Timothy J. McClimon.
5 Corporate Responsibility Trends for Leaders to Watch in 2019."
Forbes. January 3,019. [4] Connaker, Adam and Madsbjerg, Saadia.
"The State of Socially Responsible Investing."
Harvard Business Review. January 17, 2019. [5] Susan McPherson.
"Corporate Responsibility: What To Expect In 2019."
Forbes. January 14, 2019. [6] Edelman Intelligence. (2018). Freelancing in America: Commissioned by Upwork and Freelancers Union. PPT.