Challenge
Launch this newly created community bank in the highly-competitive Fairfield County communities of Darien, Rowayton and greater Norwalk area.
Solution
Develop a brand strategy and fully-integrated marketing program to reach potential retail and business customers as well as satisfy investors anxious to see the bank open.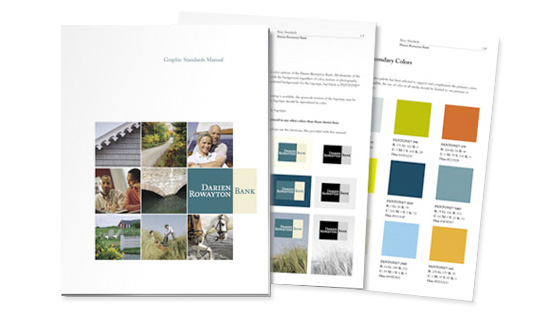 Corporate Style Guide
Determined the bank's value proposition by analyzing local competitor activities and extensively interviewing management, bank directors and community leaders


Articulated a positioning statement, key messages and meaningful tagline — "The Choice for Smart Money"


Developed a new Corporate Identity (over 100 variations) and corresponding guidelines


Developed a complete stationery system from business cards to personal letterhead



Drafted and designed a marketing folder and series of brochures highlighting consumer products and business banking services


Created a series of image ads for local magazines, railroad billboards and newspapers highlighting the bank's unique market position and value proposition


Created a series of grand-opening events including VIP investor events to showcase construction plans and marketing activities as well as consumer events with "giveaways" from local merchants to demonstrate community unity
Designed and drafted the copy for a corporate / online banking website



Result
Darien Rowayton Bank successfully launched in April 2006 and is successfully experiencing a growth in deposits and commercial lending activities.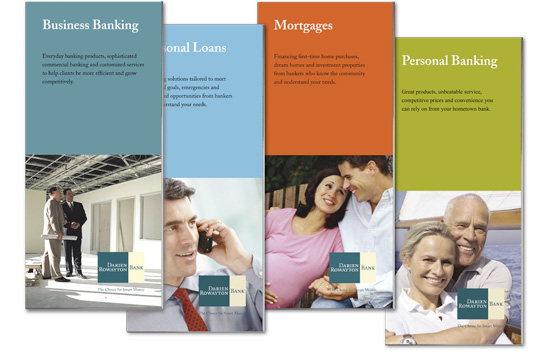 Customer Brochures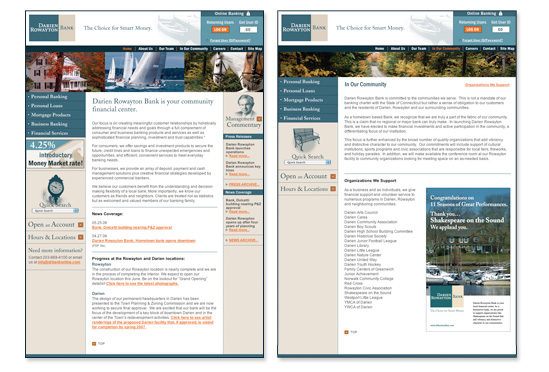 Corporate Website